​Card programme tailor-made for your company
Catella Bank offers a unique range of card-related services, from white-labelled card programmes for other banks to co-branded cards in partnership with businesses and corporate cards.
We have been a principal member of Visa Europe and MasterCard International for more than two decades, serving banks and businesses all over Europe, and have the experience to tailor a solution that fits your business.
Our comprehensive product range includes all types of credit, debit, charge and pre-paid cards.
White label programmes
Catella Bank's white label solution lets you offer a first class card solution under your own brand.
By outsourcing to Catella rather than operating an in-house card programme, you benefit from a first-class solution while reducing your costs and enhancing client relationships.
We will discreetly manage your card issuing needs, in multiple currencies and jurisdictions, thus eliminating the need for you to invest in systems or infrastructure, recruit specialist staff, or incur exposure to potential card fraud losses.
As a principal member of Visa and MasterCard, we provide monthly multicurrency settlements with the convenience of centralised billing.
Capitol-branded programmes
Using our exclusive and discreet Capitol-branded solutions you can typically launch your card programme within three months. Rest assured, we will manage the entire process with Visa or MasterCard and the card manufacturers.
The Capitol Art Card
While the highest levels of service and discretion are at the heart of the Capitol card range, our prestigious Capitol Art card offers an unparalleled level of exclusivity and craftsmanship. A card designed with pure beauty in mind, it is a truly unique expression of each cardholder's individuality. Made of solid gold and inlaid with precious stones, each card is a bespoke creation.
The Capitol Infinite Horizon Card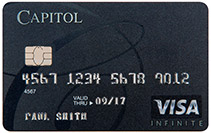 Capitol Infinite Horizon is your ultimate worldwide travelling companion. Wherever you go in the world the Capitol Infinite Horizon black card takes care of everything from the everyday to the extravagant and makes sure your trip is plain sailing.
The Capitol Infinite Card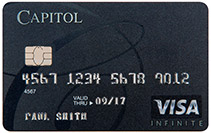 Designed with frequent travellers and international executives in mind, the Capitol Infinite black card provides a safe, secure and flexible way for clients to access their money, along with a comprehensive suite of features that provide complete peace of mind wherever you are in the world.
The Capitol Gold Card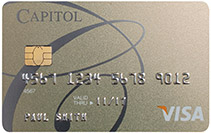 Featuring a discreet gold card design and providing unparalleled acceptance through the Visa or MasterCard payment schemes, our Capitol Gold card is designed to meet the needs of international private banking clients who demand reliable, convenient access to their money.
The Capitol Business Card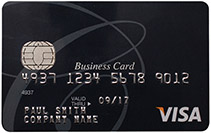 Our Capitol Business card solution has been tailored to suit executives and entrepreneurs. Capitol Business can also be used by clients whose wealth management arrangements are delivered through trust, fiduciary, corporate structures or SPVs.
Co-branded programmes
Catella Bank offers co-branded credit card programmes in which Catella Bank issues MasterCard or Visa-branded cards to a partner company's clients or members.
Catella Bank creates a unique credit card solution for our partners by tailoring the offer to the target group's needs and preferences.
By entering into a co-branded credit card programme with Catella Bank, companies generate brand recognition, enhance customer loyalty and increase sales.
Corporate cards
Catella Bank offers corporate card solutions for businesses that want to provide their employees with a convenient payment method.
Using our corporate card as your main payment method, Catella Bank will not only improve your cash flow but also simplify administration and provide a clear overview of company expenses.
We can offer corporate cards where either the employee or the company is held liable. The card is enhanced with insurance tailored for frequent travellers, with generous reimbursement levels in case of accidents, delayed flights or lost luggage.