19 January 2023, Europe, Germany | News
Catella Finance Focus #01/2023
Munich, 25th January 2023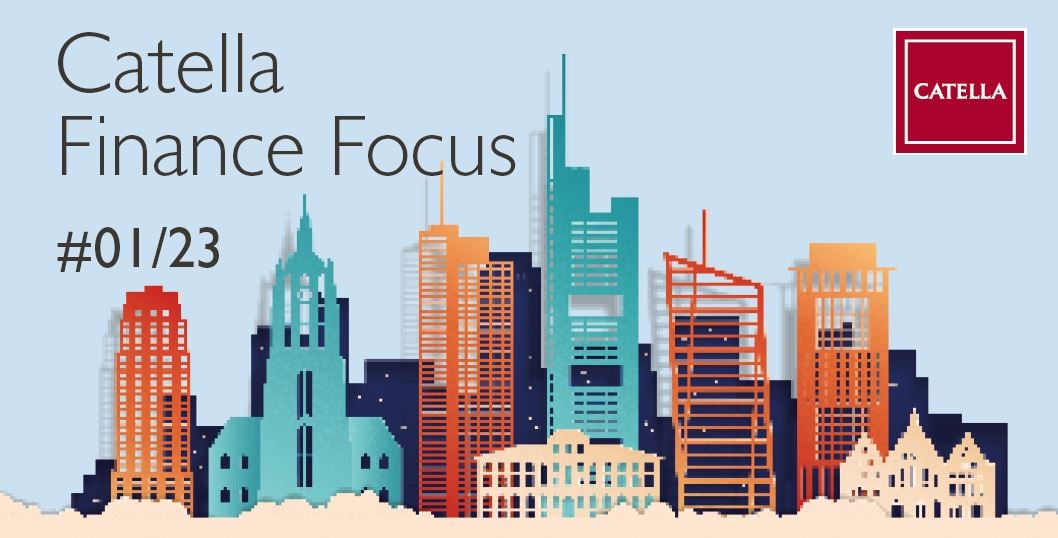 Dear readers,
Imagine you were 13 years old again, and interest calculation was on the curriculum in school. In fact, in years past, that was certainly more "learning for school than for life." But reality has us back. Because these "interest-free" times have been over since last year. Even more, in the face of record inflation, the European Central Bank decided in September 2022 to implement the biggest interest rate hike since the introduction of euro cash: The key interest rate in the euro area rose by 0.75 percentage points to 1.25 percent. On December 15, 2022, lending rates were increased again by 0.5 percentage points. The main refinancing rate (top lending rate) has thus been 2.5 percent since December 21. This also closes a delta, between real estate yields and 10-year government bonds, which has once again fueled the real estate boom since at least the middle of the last decade.
Since that time, the real estate sector has been looking for orientation. To put it plainly: the capital market or rather the capital providers have adjusted this development to their risk provisioning. So far, this development has only been reflected in isolated cases on the price tags of sales. At present, a wait-and-see approach is more the order of the day, especially since there is widespread agreement on a price correction, although the size of the "air pocket" is being debated. And it goes on: The next ECB meeting will already take place on February 2, 2023. We expect a continuation of the announced interest rate hikes. But can this really explain the current stagnation? Is inflation falling faster than we thought in December?

One thing is clear: conditions for real estate financing and real estate investments will continue to deteriorate in the coming months as long as the current price level for real estate remains stagnant. We expect property prices on the supply markets for all asset classes to fall in the coming months. However, potential losses in value will be largely offset by rent increases.

We hope you enjoy reading this report!


Yours sincerely
Prof. Dr. Thomas Beyerle