Why invest sustainably – sustainability in practice
We believe there is a connection between a sustainable business model and long-term sustainability in profitability and growth. Profitable growth is obviously also a good recipe for higher share prices and good investments, which is what we seek out on behalf of our unitholders.
What we include
All companies have varying degrees of exposure to sustainability risks according to their industry, geographical spread and ownership, which can entail both significant share price risks and opportunities. By focusing on sustainability aspects in combination with financial analysis, we can increase our accuracy in the assessment of each company's growth and results.
Active inclusion – what is a sustainable company?
Innovative solutions to today's challenges can provide both profitable and sustainable growth with a structural driving force in addition to the traditional cyclical factors that govern a company's advances and setbacks. There are a number of obviously sustainable companies, but how can we find the structural driving forces in a seemingly ordinary company? And what makes a sustainable company a good share? To answer this question, we use the UN Agenda 2030 for Sustainable Development.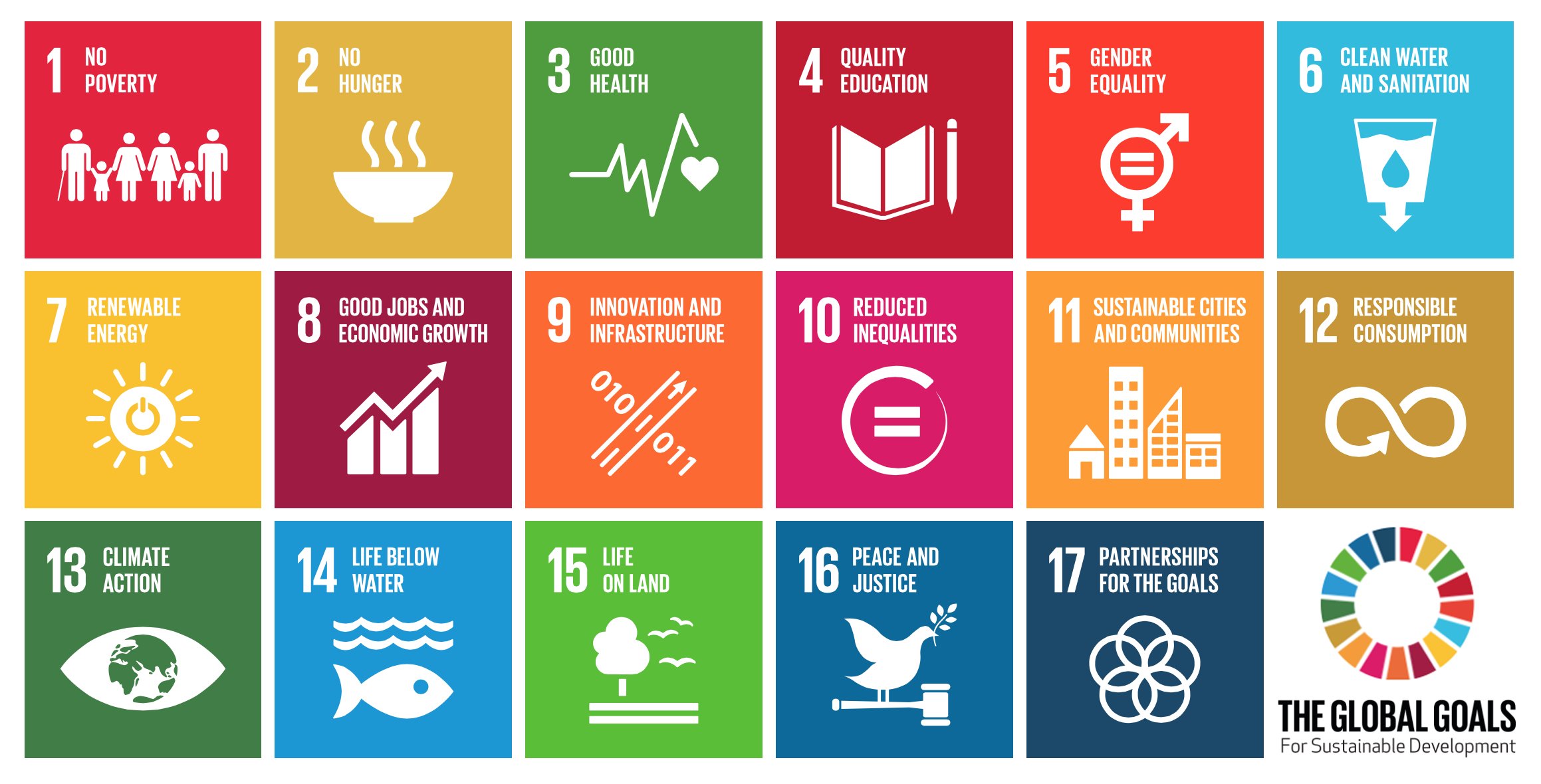 We use the goals to identify and map business models that can benefit structurally by offering a solution to one or more of the 17 goals of Agenda 2030. We have also picked out a couple of themes that we consider particularly exciting and where we believe exposure can give companies a source of structural growth. Last but not least, we examine to what extent each company's income statement and balance sheet are affected by sustainability. Adding this to the rest of the puzzle in our investments improves our understanding of the long-term potential.

Short selling unsustainable shares
Is it possible to make money from companies that conduct unsustainable business? Having the opportunity to go short (short sell shares) in, for example, Catella Hedgefond means that we can also make money when a share price falls. This might be a company with risks that are incorrectly priced by the market or that is being challenged by sustainable innovation. This is in line with our view that sustainable business creates value, which implies that unsustainable products are exposed to risks over time.
What we exclude
We draw a clear threshold for sectors and products that contrast with our philosophy and process, meaning companies that produce products that create or exacerbate a global challenge. We therefore exclude companies that produce tobacco, alcohol, commercial gambling, weapons and coal. We also exclude all companies that violate international norms and conventions. List of companies we exclude.
Ownership dialogue: How we advocate
As a shareholder, we are able to influence companies in a more sustainable direction by being active in board recruitment processes, at general meetings and in discussions with executive management. We can also exert influence by cooperating with other shareholder groups. Our actions are always based on an assessment of the prospects for achieving a result that benefits our unitholders. Our ability to exercise influence depends on the type of asset involved. When we are a large shareholder in a listed Swedish company, we have well-established forms of shareholder influence. For other investments, such as in foreign companies and companies that we own indirectly, there is more limited potential to have an influence, which makes it even more important to work with other investors. It is the lead fund manager who conducts ongoing dialogue with the companies on both financial and ownership issues. List of companies we have had a dialogue with.
Our sustainability process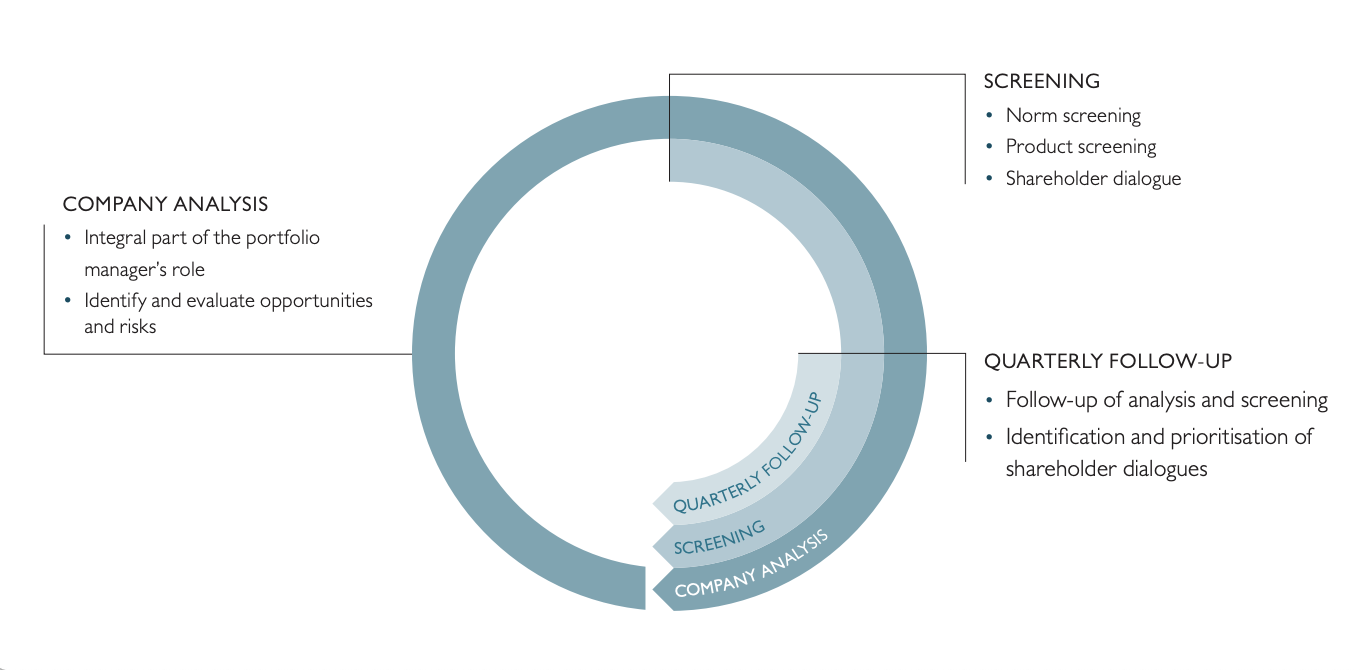 Click the image to see which companies we exclude and which companies we have had and ownership dialogue with.
Ongoing work
As an active manager, we maintain ongoing dialogue with a large number of companies on the Nordic exchanges. The issues at stake are both financial matters and shareholder dialogue, as well as sustainability. We strongly believe that sustainability analysis must be integrated with financial analysis in order to be truly value-creating. This work is carried out on an ongoing basis as a natural and integral part of the traditional role of the portfolio manager, with an assessment of a company's opportunities for future growth and profitability. By adding an assessment of the extent to which sustainability strengthens or weakens a company's prospects, we improve our understanding and therefore the accuracy of our forecasts.
Half-yearly
Twice a year, all holdings in the portfolios and their relevant indexes are screened to ensure our thresholds and restrictions. We use an external and independent partner, Sustainalytics, which evaluates the companies' sustainability work and monitors current controversies and problems. The screening gives us a list of companies that are in violation of international norms and conventions, and companies that are affected by our threshold at product level. We also use the analysis from Sustainalytics to discover which companies have increased risks (low scores in relevant areas) or improvement potential in their sustainability reporting. Based on this, we are able to identify investment candidates and prioritise future ownership dialogue.
Quarterly
In order to dig more deeply into these issues, we hold quarterly internal sustainability seminars during which we add our own company analysis to that of Sustainalytics.
How sustainability is implemented in the funds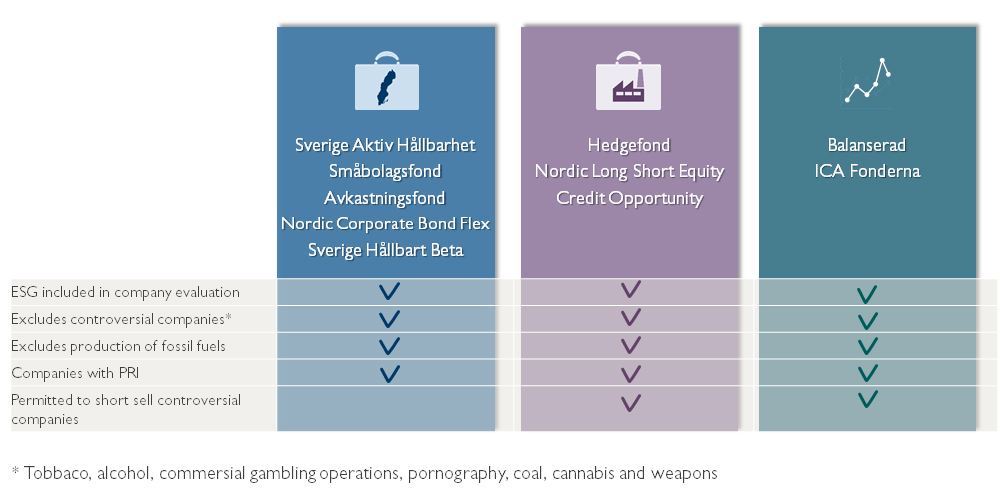 Would you like to know more about Catella's sustainability work?