1 February 2018, Sweden | Mutual Funds | News
Choice of benchmark makes a difference
In recent years it has become more popular to invest in passively managed funds, known as index tracker funds. Of the total net flows into equity funds during 2017, almost 80 percent (SEK 37.4bn) went to tracker funds, and by the end of the year these funds made up almost 16 percent of total equity fund assets. Even though Catella Fonder stands for active management, with our analysis and knowledge forming the foundation of our fund management, we would like to highlight the importance of choosing the right index fund.
An index fund strives to track the performance of a particular market index, so investing in this type of fund means that unitholders shadow the performance of the stock market, whether rising or falling. In practice, the management of an index fund is all about checking and balancing so that the portfolio maintains the same weight in each share as that share has in its benchmark. There is no analysis of the market, and the critical factor is instead to have careful procedures and to minimise costs.
There are a variety of index funds tracking Swedish equities available in the market, so if they all follow the Swedish stock market, does it matter which you choose?
Looking at the difference in performance of the various funds, the answer is Yes! It can make a big difference, a much bigger difference than the level of the paid by the client. The reason for this is principally that there are different indexes, all of which aim to represent the Stockholm stock exchange.
The three most widely used indexes are:
OMXS30 – 30 of the most traded shares on the Stockholm stock exchange
OMXS Stockholm Benchmark, also called SBX – a selection of approximately 90 of the largest and most traded shares on the Stockholm stock exchange
SIX Return Index – all shares listed on the Stockholm stock exchange, approximately 315
The graph below shows the performance of these three indexes over the past five years. Dividends are reinvested in all three cases.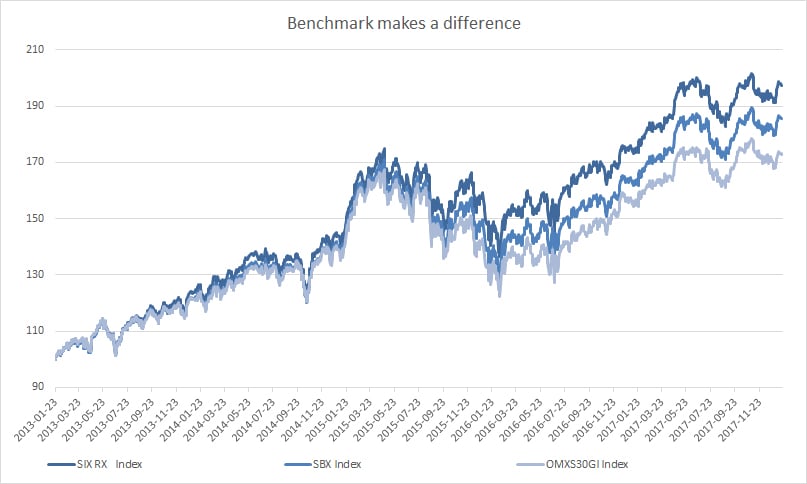 Source: Bloomberg
If you had invested in the SIXRX five years ago you would have received a return of 97 %, compared to 86 % for the OMXS Stockholm Benchmark (SBX) and 73 % for the OMXS30. This can partly be explained by the fact that small companies have generally outperformed the market giants. Interestingly, it has been favourable to have exposure to the entire Stockholm stock exchange, which would have offered better diversification and a higher return.
There is plenty of choice in the market today; everything from free products to index funds that charge for their work. An article on the news website DI.se earlier this year showed the ranking below for a number of the large index tracker fund providers.
As you can see, it is not just a matter of assuming that free and index means the best. It is much better to make an active choice, even when it comes to choosing an index tracker fund. It can make a big difference to your investments in tracker funds over time!
Ranking of 76 Sweden funds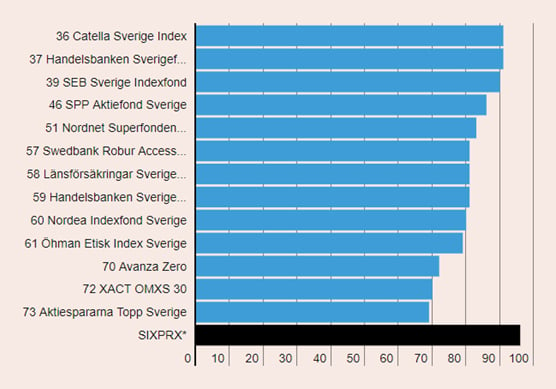 Source: Di.se, January 11, 2018
Active selection is important to Catella. Do not hesitate to get in touch if you have any questions.
Risk information
Investments in fund units are associated with risk. Past performance is no guarantee of future returns. The money invested in a fund can increase and decrease in value and it is not certain that you will get back the full amount invested. No consideration is given to inflation. The Catella Balanserad, Catella Credit Opportunity and Catella Hedgefond funds are special funds under the Swedish Alternative Investment Fund Managers Act (SFS 2013:561) (AIFM). Catella Sverige Aktiv Hållbarhet and Catella Småbolagsfond may use derivatives, and the value of the funds may vary significantly over time. The value of Catella Sverige Hållbart Beta may vary significantly over time. Catella Avkastningsfond may use derivatives and may have a larger proportion of the fund invested in bonds and other debt instruments issued by individual national and local authorities and within the EEA than other investment funds, in accordance with Chapter 5, Article 8 of the Swedish Investment Funds Act (SFS 2004:46). Catella Nordic Long Short Equity and Catella Nordic Corporate Bond Flex may use derivatives and may have a greater proportion of the funds invested in bonds and other debt instruments issued by individual national and local authorities and within the EEA than other investment funds. For more details, complete prospectuses, key investor information, and annual and half-yearly reports, please refer to our website at catella.se/fonder or phone +46 8 614 25 00.