20 September 2019, Sweden | Mutual Funds | News
Catella's Martin Nilsson visits Lindab
My two-day business trip to Skåne begins with a visit to Lindab in the town of Grevie on the beautiful Bjäre peninsula. Lindab is an international industrial group that develops, manufactures, markets and distributes products and system solutions for construction and indoor climate.
AB Lidhults Plåtindustri was founded on February 6, 1959 by Lage Lindh and Valter Persson. This was the start of the company that 10 years later would be named Lindab. Today's Lindab has a Nordic focus, but sales are made to approximately 24,000 customers in 60 countries. Since the beginning of 2019, the company has been divided into three divisions: Ventilation Systems, which provides the ventilation industry with ducting systems and indoor climate solutions; Profile Systems, which provides the construction sector with products and systems for roof drainage, roofing and wall coverings, as well as steel profiles for wall, roof and floor structures; and Building Systems, which offers complete assembly-ready steel building systems.
My visit to Lindab began with a meeting at the head office with the company's CFO Malin Samuelsson. We discussed Lindab's development over the past quarter, world events like Brexit, and sustainability issues such as gender equality in the group and the company's goals in reducing carbon dioxide emissions. After our meeting we went down to the factory where we were met by Patrik Svensson (Regional Operations Manager), who showed us around the plant. The degree of automation in the factory is impressive. Patrik says that compared to 1988, the factory produces 8 times more units per day with unchanged staffing levels thanks to automation.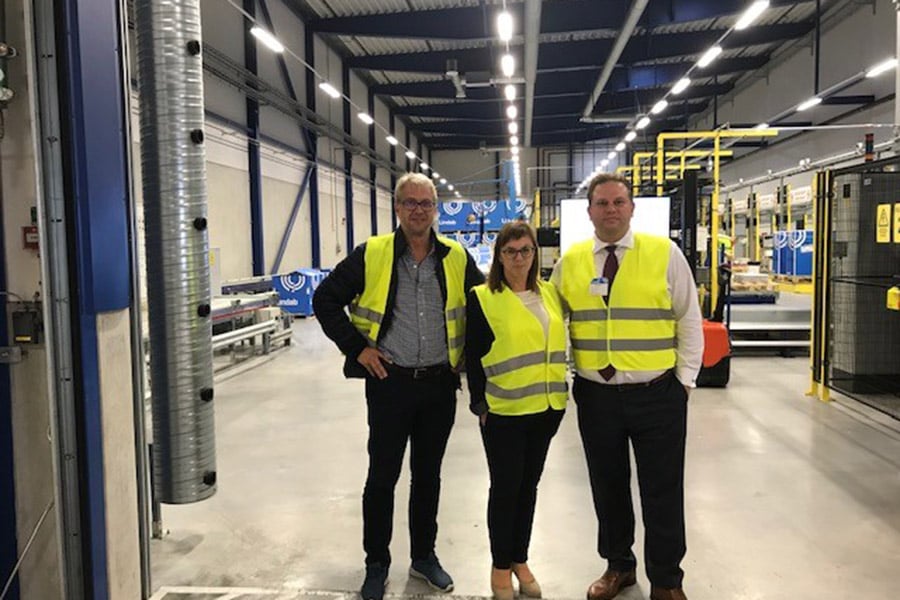 Company visit to Lindab in Grevie with CFO Malin Samuelsson and Regional Operations Manager Patrik Svensson.
We own shares in Lindab through Catella's Småbolagsfond as we believe the company's valuation is attractive and its strong balance sheet enables consolidation of the fragmented European market. In recent years, Lindab has had solid sales growth, with 2018 being the strongest at 8.9 percent. However, the operating margin has not kept up and has not reached the company's target of 10 percent. That said, we believe that there are good prospects for the company reaching this target since Lindab has introduced a new pricing strategy and continues to work on streamlining its production and distribution. We saw one result of this in the first half of 2019 when the company had an adjusted operating margin of 8.8 percent.
Lindab has a history of acquisitions. In recent years, however, its debt has been above or in line with the company's target (seasonally adjusted net debt in relation to EBITDA should in the long term not exceed 2.5x), which has been a limiting factor. Now that debt has come down as a result of strong cash flows, the company has a solid financial position that gives room for both investments and acquisitions. This will create a good combination of organic and acquired growth.
Risk information
Investments in fund units are associated with risk. Past performance is no guarantee of future returns. The money invested in a fund can increase and decrease in value and it is not certain that you will get back the full amount invested. No consideration is given to inflation. The Catella Balanserad, Catella Credit Opportunity and Catella Hedgefond funds are special funds under the Swedish Alternative Investment Fund Managers Act (SFS 2013:561) (AIFM). Catella Sverige Aktiv Hållbarhet and Catella Småbolagsfond may use derivatives, and the value of the funds may vary significantly over time. The value of Catella Sverige Hållbart Beta may vary significantly over time. Catella Avkastningsfond may use derivatives and may have a larger proportion of the fund invested in bonds and other debt instruments issued by individual national and local authorities and within the EEA than other investment funds, in accordance with Chapter 5, Article 8 of the Swedish Investment Funds Act (SFS 2004:46). Catella Nordic Long Short Equity and Catella Nordic Corporate Bond Flex may use derivatives and may have a greater proportion of the funds invested in bonds and other debt instruments issued by individual national and local authorities and within the EEA than other investment funds. For more details, complete prospectuses, key investor information, and annual and half-yearly reports, please refer to our website at catella.se/fonder or phone +46 8 614 25 00.