8 April 2019, Sweden | Mutual Funds | News
Online retailing − Quick, cheap/expensive, sustainable?
Online retailing is taking an ever-greater proportion of Swedes' total spending, and companies that focus on the internet are being rewarded with much higher growth than those sticking to physical stores.
Will regular stores disappear completely, and if so, when?
In this month's podcast, Catella Fonder has brought together a number of analysts with expertise in this area to provide an overview: Carnegie's retail analyst Niklas Ekman, Catella Fonder's portfolio manager Anders Wennberg and Sandra Gadd, Business Development Director at Boozt.com.
If we lump together all the different segments, e-commerce in Sweden has grown strongly and steadily; in the region of 15-20 percent over the past six to seven years. But the rate of growth has varied in terms of individual segments. Growth has slowed in recent years for more mature online products like multimedia and electronics, while the segments that went online later are growing more rapidly.
"Food is growing by far the fastest. Penetration is very low, at just under 2 percent. Then comes furniture, home decor and sports – again, segments that are a little further behind and where penetration is lower," says Niklas Ekman.
During the early years of online retailing it was mainly digital products that were easy to sell online, such as travel and stock trading. Then price came into the picture as a success factor, and what could be sold cheaply online were goods that were cheap to ship – like mobile phones, DVDs and books.
Price is not as important as it used to be, and convenience has become an increasingly key factor for anyone considering shopping online. And this applies not least to food, which is rarely particularly cheap to buy online; but it is very convenient to not have to go to the store and carry home bags.
Consumer durables like white goods, which are heavy and challenging to ship, are also showing strong growth. However, the most popular segment, in terms of both sales volumes and what people are looking for online, is clothing. In more recent years, clothing has acted as something of a door opener for online shopping as a whole.
Have we started to rely more on internet sellers in general? Because that is surely a basic premise?
"Absolutely. I think there is a big difference now compared to five or six years ago, when customers were quite distrusting of both quality and the payment solutions. There has been huge shift," says Niklas Ekman.
The analyst mentions a modern saying in the online world: once a customer has returned their first product online, the dam breaks for real.
"Many people are probably quite sceptical the first time they buy clothes online. But once they have made a few purchases, and even returned goods, they see how easy it is. Then it is often the case that they buy much, much more than before," continues Niklas Ekman.
Online clothes shopping was held back for a long time because of customer uncertainty about fit and sizing. Once merchants introduced the facility to buy clothes in several different sizes, try them at home and then return everything that did not fit for free, online shopping took a big step forward in this segment.
"Once you have made your first return and found out how easy it is, you are more likely to come back," says Sandra Gadd.
Another bottleneck in the early days of online was often the customer's internet connection. Placing an order on one of the most image and graphics-heavy sites of the time, such as Boo.com, could take a very long time. When it comes to the efficiency and delivery response of today's online retailers, Anders Wennberg believes the old physical clothing stores still have some way to go before they catch up with their younger competitors.
"Isn't it an advantage today for Boozt and Zalando that many of the traditional companies, such as H&M, have not yet got their deliveries up to speed?" he says.
In the broad consumer durables segment, 2017 was the first year ever during a period of economic expansion that physical retail stores showed no growth. The entire growth of the segment instead came from online sales. At the same time, however, retailing as a whole has probably experienced weaker margins as a result of the shift to online.
Do online sales offer higher or lower margins?
"Margins are generally lower at the moment. We can only speculate about where it will end up, and whether online margins will climb towards 10 percent," says Niklas Ekman, claiming that the big margins of the store chains are a thing of the past.
"Most retailers made margins of around 10-12 percent when I started to follow this industry, and H&M was exceptional with a 24 percent operating margin at its peak. This is now down to 7 percent. Most online retailers are at around 5 percent or below," continues Niklas Ekman, adding that he expects online retailers to eventually reach a position with better margins, "between 5 and 10".
The question of margins weighs very heavily in the valuation of e-commerce shares. Last autumn, three of the major companies in online clothing, Zalando, Asos and Boozt, fell heavily on stock exchanges. The reason was that all three had warned of lower margins than they and the market had previously expected.
"We have always assumed that margins would improve as growth slowed and the companies pulled back on advertising, but the opposite appeared to be the case last autumn. A number of these shares have now recovered, but I would probably say that their biggest driver is the long-term margin potential," says Anders Wennberg.
Is there any particular industry that is exceptionally profitable online?
"That would have to be the ones that are not really online retailers. Like bookings.com, hotels.com and so on. They are more of an intermediary and can achieve very high margins. But clothing has a very high gross margin, which allows for higher margins in the long run compared to, for example, electronics," says Anders Wennberg.
Back to clothing. Which are the biggest online sellers?
"The biggest in terms of sales in the Nordic region is Zalando. The second is actually H&M at the moment, with Boozt following just behind. The others are quite a long way back, and most of them also have pretty slow growth," says Niklas Ekman.
Sandra Gadd points out that online fashion retailers need to make heavy investments once they reach a certain size. This can make it difficult for smaller clothing sellers to step up to the very top level since it requires access to capital. The entry barriers are getting higher, and rise even more as the market as a whole matures.
"But I think there will still be room for niche retailers, even if a few big players crystallise out in each geographical market," she says.
Anders Wennberg agrees and points out that the established store chains can sooner or later also be expected to learn how the online market works.
"At some point they will get better. Then the online market will be bigger, with the offline players trying to find the benefits of their 'omnichannels'," he says, meaning that established traders with both physical stores and an online presence are expected to create synergies between the various sales channels. For example, by allowing customers make returns to physical stores, where they can also examine and touch goods before buying.
"But it has been really tough so far. Everyone is talking about omnichannel, but nobody has created a really good offering yet. What this tells me is that you have to have an offline offering that steers the online offering. These markets look quite different: how you work with campaigns, dynamic pricing and so on," says Niklas Ekman.
But lots of people still want to touch and feel the items first, especially clothing. Sandra, are you seeing this with certain goods or have you solved the trying-on problem?
"People sometimes want to touch and feel, and you can – you just have to get them delivered first. We find that lots of people like trying on things at home. It is all about convenience," says Sandra Gadd.
The ability to return ordered goods for free is generally considered to be essential to succeed in online clothing. But this is far from free for the retailers, and a recurring question is how far you should go to meet customer demands. If an order is small to start with and a lot of it is returned, the margin quickly disappears and can turn into a loss.
One possibility that traders are wrestling with is to set a minimum order, or to introduce a service charge for big returns.
"Profitability definitely requires a higher average order value. If you look at Boozt or Zalando, they have a total shipping/return cost of around SEK 100-120 per order. There is clearly a very big difference between people placing an order for SEK 150 or SEK 1,000," says Niklas Ekman.
That might suggest that it is more difficult for H&M, which has clothes that are a little cheaper on average?
"Boozt has deliberately set a minimum order level of SEK 500. Zalando was the first to remove a minimum order threshold, but is now talking about reintroducing it," says Niklas Ekman, and adds that small online orders are related to the increased use of smartphones for shopping. Surveys have shown that a customer shopping online from a computer orders perhaps two or three products on average, while a purchase made with a phone is often for a single product.
Another factor that greatly affects profitability is advertising and marketing. Not least for online retailers, which are naturally less well-known than the big traders that also have large store chains.
"We put about 12 percent of our revenues into marketing," says Sandra Gadd.
"If you look at H&M, they spend perhaps 4-5 percent. I do not really know where Zalando is, but I guess somewhere around 7-8 percent, perhaps," says Niklas Ekman.
Is there a danger of always having to offer more discounts?
"No. At Boozt we have around 500 brands and many of them are Nordic and we are their largest trading partner, so we have an important relationship with the brands. But the market is transparent, and the price too, so you have to have a competitive offering," says Sandra Gadd.
Financially then, which companies can be expected to do a little better?
"We like Boozt and were very pleased that their growth accelerated in December, and that this seems to have continued into the first quarter. The gross margin stabilised in December after a tough October-November. This gives very good prospects for 2019. Hopefully the share could go a bit further," says Anders Wennberg.
"There has been a storm of bad reports from physical retailers over the autumn and winter, with a lot of new issues and profit warnings. The problems we saw during the autumn for online retailers were very weather-related, and I absolutely believe that they are the ones that will be the winners. Then you can always discuss valuation – online retailers have very, very high valuations," says Niklas Ekman.
"But the physical retailers are not very cheap either. H&M is at p/e 19-20 and Axfood is at p/e 23," says Anders Wennberg.
"I think that profitability will be lower in the long run. At the same time, I believe the growth of online retailers will continue to be high for many years, so they deserve a higher valuation," concludes Niklas Ekman.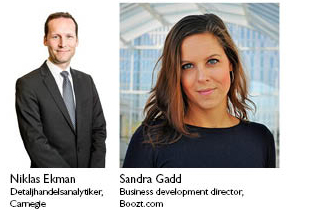 Risk information
Investments in fund units are associated with risk. Past performance is no guarantee of future returns. The money invested in a fund can increase and decrease in value and it is not certain that you will get back the full amount invested. No consideration is given to inflation. The Catella Balanserad, Catella Credit Opportunity and Catella Hedgefond funds are special funds under the Swedish Alternative Investment Fund Managers Act (SFS 2013:561) (AIFM). Catella Sverige Aktiv Hållbarhet and Catella Småbolagsfond may use derivatives, and the value of the funds may vary significantly over time. The value of Catella Sverige Hållbart Beta may vary significantly over time. Catella Avkastningsfond may use derivatives and may have a larger proportion of the fund invested in bonds and other debt instruments issued by individual national and local authorities and within the EEA than other investment funds, in accordance with Chapter 5, Article 8 of the Swedish Investment Funds Act (SFS 2004:46). Catella Nordic Long Short Equity and Catella Nordic Corporate Bond Flex may use derivatives and may have a greater proportion of the funds invested in bonds and other debt instruments issued by individual national and local authorities and within the EEA than other investment funds. For more details, complete prospectuses, key investor information, and annual and half-yearly reports, please refer to our website at catella.se/fonder or phone +46 8 614 25 00.