2022-01-10 10:19 CET, Germany | Press release
Catella Dutch Residential II invests €26 million in converted housing development in Arnhem
10th January 2022: Maastricht-based Catella Investment Management Benelux (CIMB) and Munich-headquartered AIFM platform Catella Real Estate AG (CREAG) have acquired a residential development in Arnhem, in the east of the Netherlands, for €26 million. The asset was purchased on behalf of the Catella Dutch Residential Fund II from VERDI-STAETE LIVING B.V. Construction will start in January 2022 and is scheduled for completion in April 2023.
The project will transform a former logistics centre on a 10,000 sqm site into an affordable residential complex with 92 apartments, 900 sqm of commercial space, 104 storage units and 96 parking spaces. Residents will also enjoy a private and tranquil environment thanks to the extensive green spaces being created around the property.
Jos Klinge, Senior Acquisition Manager at Catella IM Benelux: "The rationale behind this acquisition is compelling. Arnhem's population is growing fast, the city faces a housing shortage, and it has a higher-than-average level of single-person households. These issues are compounded by an ageing population, which is putting even greater pressure on a market segment that is already in great demand. The property is attractive to all age groups, but is especially suitable for older people given its location is 10 to 20 minutes with bike or car to the city centre and all local amenities, the size of the apartments and the affordable rents."
The apartments will vary in size from 27 to 118 sqm, with more than two-thirds between 30 to 50 sqm, spread over four floors. The largest, measuring more than 70 sqm, will have a private outdoor space. All units will have a fully equipped bathroom, kitchen, and toilet as well as underfloor heating and CO²-controlled ventilation. The building will have the highest possible energy label and incorporate solar panels.
The development is located in the 'De Laar' residential neighbourhood on the Zeelandsingel to the south of Arnhem and is very well connected to the city centre and Nijmegen via the A325 motorway. Arnhem's major malls including the 50,000 sqm Kronenburg shopping centre and the Woonboulevard, a home improvement retail strip, are located in the vicinity.
Arnhem is situated in the east of the Netherlands between Nijmegen and Apeldoorn with a population of over 160,000. The share of single-occupancy homes in the city as a proportion of the total housing stock at 48%, is above the national average of 38% (source: CBS 2021). The historic centre has many attractions including shops, restaurants, bars, and other leisure activities and Arnhem also boasts many green areas and nearby national parks (De Hoge Veluwe and Veluwezoom). The surrounding region is one of the four major metropolitan areas outside the Randstad western central urban conurbation, with a total population of 740,000 people.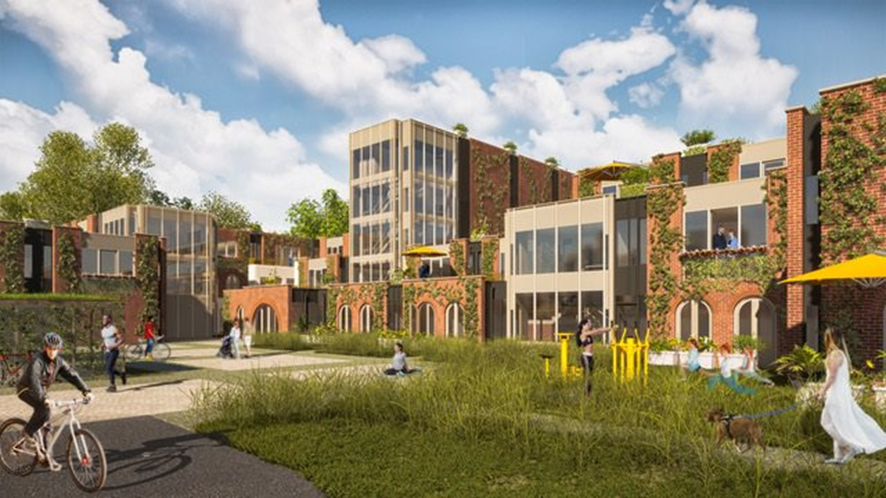 Arnhem is well-connected to the rest of the Netherlands by the A12, A50 and A325 motorways and it is linked to other major Dutch centres by rail, such as Amsterdam within an hour, Utrecht in 30 minutes and German cities, like Duisburg, Essen, and Düsseldorf in less than two hours.
Loyens & Loeff advised on the legal and tax due diligence while PVM Eindhoven B.V. conducted the technical due diligence.
About Catella IM Benelux
Catella Investment Management Benelux (CIMB) is part of the Catella group, a leading specialist in property investments and fund management with operation in 13 European countries and approximately 550 employees, including approximately 25 employees in the Benelux. The group manages assets of approximately €11 billion (September 2021). Catella is listed on Nasdaq Stockholm in the Mid Cap segment.
CIMB is the local office that offers fund, acquisition and asset management for all Catella-managed funds with an allocation to the Benelux region. CIMB has a broad real estate portfolio with some 75% invested in residential property and the balance in commercial assets. CIMB currently has about €1.5 billion in assets under management in the Benelux and is anticipating investing some €600 million per annum in these markets over the next few years.
CIMB is a member of the Catella European residential network alliance. Catella's European residential network one of the largest cross-border investment platforms for residential real estate in Europe with total assets under management of more than €5 billion.

About Catella Real Estate AG (CREAG)
Catella Real Estate AG (CREAG), founded in January 2007 and headquartered in Munich, is engaged in the management of real estate investment funds and in providing advice on investing in real estate. CREAG is a licensed capital management company (KVG) under German investment law (KAGB). The purpose of the company is the conception, development and management of open-ended real estate investment funds based on the expertise and outstanding market position of the Catella Group. CREAG currently manages assets of EUR 6.4 billion in 19 real estate funds (as of September 30, 2021).
For more information, please contact:
Jos Klinge
Senior Acquisition Manager
Catella Investment Management Benelux BV
Sphinxlunet 74, 6221 JJ Maastricht
M: +31 6 24512075
E: jos.klinge@catella.nl
Web: www.catella.com
Julia Stübler
Marketing Manager
Catella Real Estate AG
Alter Hof 5
80331 Munich
M: 49 152 389 228 65
E: Julia.stuebler@catella-investment.com
Web: www.catella.com